Oct

22
Tags
Related Posts
Share This
Sleepy Hollow 2-5
So I binge-watched the remaining episodes of Sleepy Hollow with Katherine and Jason. I took notes as the episodes went on — they become less and less coherent as the episodes progressed.
But I threw in some gifs in there, so hopefully it will still be moderately entertaining. 
Anyway, Sleepy Hollow isn't coming back till November 4th, although then Fringe's JOHN NOBLE will be in it!
Let's dive in! 
Episode 2: "Blood Moon"
 Katrina the wife looks really different in this second episode — I assumed she'd been recast, but I guess not?
Image via here
I'm sorry, but doesn't this…
look different than this…?
Just me, then? Okay. I guess she's just a Two-Face.
Katrina lists the Four Horsemen: Conquest, War, Famine, and Death — where is Pestilence? Also, aren't "Conquest" and "War" the same thing? 
Yes, my viewing party discussed this extensively. I know. Don't judge. 
Ichabod is in a motel! He seems awfully sniffy about it, considering he was nearly in jail last episode.
Police officers recanted Abbie's Headless Horseman story, so she's got no back-up about the Headless Horseman. Orlando Jones still thinks Ichabod is crazy.
Orlando Jones is doubting you. 
Jason: I'm telling you. Orlando Jones is totally evil.
Katherine: I'm leaning more that he's a good witch, on the Down Low. 
They watch EVIL DEAD JOHN CHO die via video surveillance.
Funny sequence of Ichabod trying to use modern implements. Who put all those helpful post-it notes up? He's still washing and wearing his old uniform. And is freaked out by TV. He also insists to Abbie
…and "Something's given you a reason to doubt my veracity." Ugh, I don't want Abbie doubting that this is all real — it's boring. Because she's obviously going to accept it eventually.
JOHN CHO IS BACK AND IT'S REALLY DISTURBING. HE SNAPS HIS NECK BACK IN PLACE AND OH MY GOD
Does not do justice to how disturbing this is. 
This does a better job:
Image via here
EVIL DEAD JOHN CHO IS VOMITING UP A NECKLACE!
Hey, doesn't this morgue have a security video? Wouldn't this black magic reincarnation be on that? 
In Abbie's police car, Ichabod's outrage over taxation is obvious but funny.
Abbie calls him out about being nonchalant over finding out his wife is a witch. Icky:  "What's insane is a 10% levy on baked goods."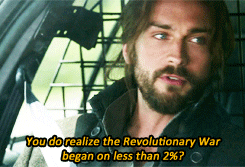 Sensibly, Abbie advises him to keep quiet about being from hundreds of years ago. Smart.
EVIL DEAD JOHN CHO IS DRIVING AROUND.
Sad Dead Sheriff funeral — flashback to the LAST EPISODE (he got his head cut off).
I died last episode! That makes Abbie sad! Image via here. 
Abbie sheds beautiful tears.
Ichabod figures out the woman Katrina warned him about in his dream is a witch. Presumably that's what /whom John Cho is trying to raise.
EVIL JOHN CHO IS WALKING AROUND.
The necklace he vomited up raises a charred witch. Evil dead John Cho looks less than thrilled about the whole thing.
Image via here 
EVIL DEAD JOHN CHO PULLS OVER A RANDOM GUY. Alright, that's it: lesson learned. Next time I get pulled over by the police, I'm ignoring it cause it's obviously EVIL DEAD JOHN CHO.
Guy: "What happened to your neck?" EVIL DEAD JOHN CHO: "It's hard to explain."
Evil Dead John Cho wants soon-to-be-burned-alive-guy to know "it wasn't personal."
NEVER STOP FOR THE COPS YOU GUYS.
"Wicked Witchcraft" plays. Guy burns. Subtle.
Ichabod calls Abbie out on still feeling doubt about all this crazy ish: "But even so, you still doubt your own eyes." He says she's still mourning the Sheriff.
Turns out Dead Sheriff was her mentor who rescued Abbie from a life of juvenile crime. Callback to the scene where he was introduced: Dead Sheriff's love of pie and ice cream was apparently significant. Man, they packed a lot of characterization into his thirty-second intro scene before he got his head chopped off. Impressive.
Blah blah blah charred body. Witch from long ago rumored to turn bodies to ash.
They go to look in files to find out more about the good versus evil witches the Dead Sheriff mentioned
They run into Abbie's ex, who is on the force. Funny snipping between Abbie's Ex and Ichabod. Abbie's ex is also Latino actor Nicholas Gonzalez  — serious props for your diverse cast, Sleepy Hollow. You win. 
Ichabod's cover is an Oxford professor specializing in the American revolution. Sort of fun.
Ichabod also has fun baiting Abbie about her ex:  "Were you and Luke formerly betrothed?"
Also, this is the best term for a break-up, ever:    "What was the impetus of your disbandment?"
Abbie is like
And Icky is like, "I would happily accept, as I am in need of currency."
SECRET TUNNELS UNDER THE POLICE STATION
Ichabod also point out that the tunnel are where, conveniently,  the bodies of dead witches are buried. Not Katrina, however, whose "remains remain a mystery."
They find lots of gun powder, so obvs it's gonna go off at some point.
They find their way to the files through the hidden tunnels: as Katherine points out, conveniently in the first room they find, right where the tunnel ends.
Then there's this whole set up where it looks like EVIL DEAD JOHN CHO is going to kill a kid, which television shows NEVER ALLOW. Naturally, it's all a fake out and EVIL DEAD JOHN CHO just wants the kid's dad's ashes.
Jason: Zombie Harold is creepy.
Jason: Or if you prefer, Zombie Sulu is creepy. 
Turns out Ichabod has a photographic memory. Convenient.
They identify the witch as Serilda of Abaddon. Abaddooooooooooooon! The "good" witches bound her and she was burned at the stake. Now she's coming after the ashes of the descendants of those who burnt her.
Jason: It's a good thing all the descendants still live in Sleepy Hollow…and that everyone is awesome at genealogical research.
Conveniently, Serilda's bones are in the tunnel, REMEMBER THAT DETAIL?
Abbie does a hilarious British accent and Ichabod says, "That is not an accurate impersonation."
And stupid princess-y witch makes EVIL DEAD JOHN CHO dig up her bones. Lame! Being a demon's bitch is a bad gig, EVIL DEAD JOHN CHO.
Abbie: "Just aim and pull the trigger." Ichabod: "I do remember how to use a firearm."
Funny bit about how Ichabod doesn't realize guns have more than one round. "You dropped your gun!" "It was empty"! "You only fired one shot!" "It has more?"
The witch rises but before she can do anything cool, they burn her AGAIN with gun powder (remember that?). There's a nice bit when the gunpowder doesn't light right away.
Poor witch. All that trouble to get resurrected, and you get burned again like RIGHT AWAY BEFORE YOU CAN EVEN DO ANYTHING COOL. EVIL DEAD JOHN CHO went to all that trouble for nothing! And where is EVIL DEAD JOHN CHO? He will be back, right?
Turns out Katrina was the one who bound the evil witch. Now Katrina is imprisoned between worlds.
My theory: Katrina was actually a bad witch, too. After all, the Katrina of the original story (and cartoon that my after-school care program played constantly), was heavily hinted to Not Be On the Level. 
Ichabod is great to Abbie:
Jason: I do love that she's out-whining the guy who got thrust forward in time. "Oh, no, my world is different," "Bitch I lost everything."
But she DID lose the Dead Sheriff, we are reminded, when Abbie hallucinates the sheriff who tells her not to be afraid of #49 WHICH IS HER SISTER'S ROOM IN THE INSANE ASYLUM…
DUN DUN DUN